Indoor Air Quality Accessories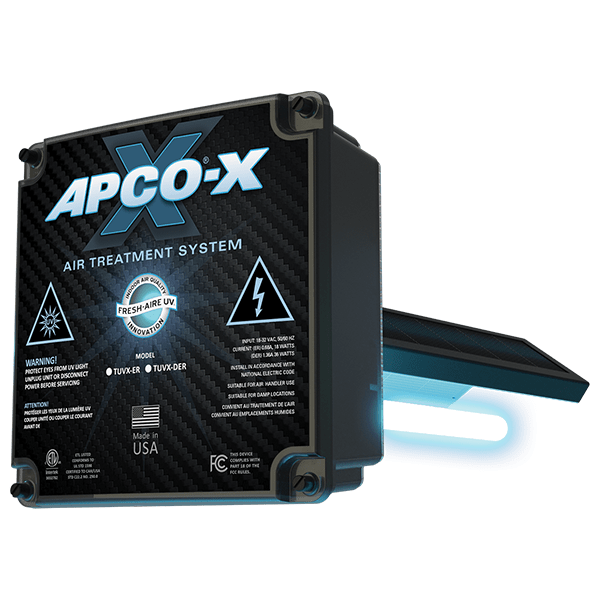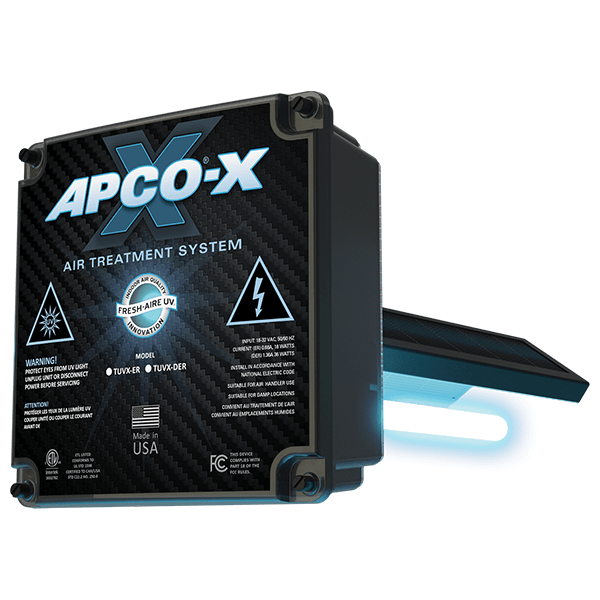 APCO-X®
Introducing our most advanced whole-house air treatment system yet. APCO-X is the result of ten years of APCO development. It will revolutionize indoor air quality with significantly improved performance, functionality, and reliability.
33% more effective than previous model in laboratory tests
V-Twin element with over 65% more effective carbon surface area
EverCarbon™ cells with proprietary antimicrobial nanotechnology
3 year UV-C lamp
LED status and lamp fault indicator
Translucent polycarbonate housing
Face-plate rotates for vertical or horizontal installation
Validated Ozone Free
Fresh-Aire UV APCO is the first UV/PCO based air purification product line to achieve the UL environmental claim validation (UL-2998) which identifies air purification systems that emits zero ozone. They are then listed in the UL SPOT database of sustainable products.
Complete IAQ Solution
APCO® whole-house air treatment systems detox the air as it is circulated by the HVAC system. They feature a unique combination of UV-C light and activated carbon which achieves unmatched microbial and odor reduction without producing any harmful ozone.
APCO-X can be combined with Freshaire UV's Purity Low Profile polarized electronic filter system for a complete and comprehensive indoor air quality solution.
VOC Chemical vapors and odors
Mold, bacteria, viruses, and allergens
Particulates, dust, pet dander, spores, dust mites etc.
APCO® is proven to safely reduce both VOCs and biological contaminants inside the air system and throughout the home. We carry a full line of Fresh-Aire UV Products. Contact us for more information about what's best for your home or business.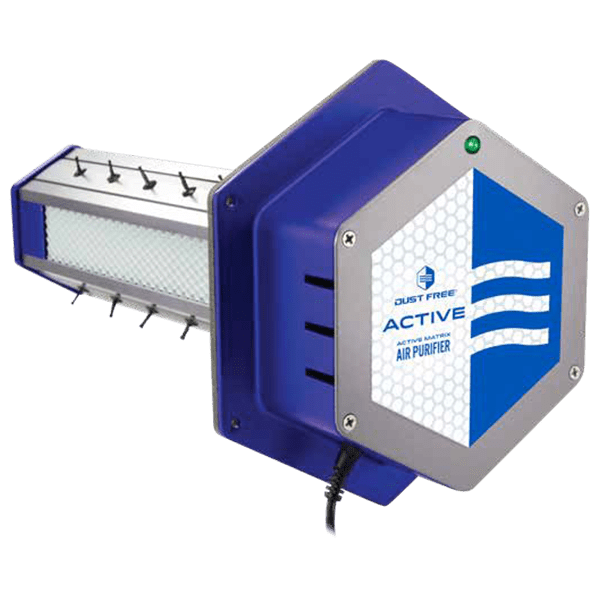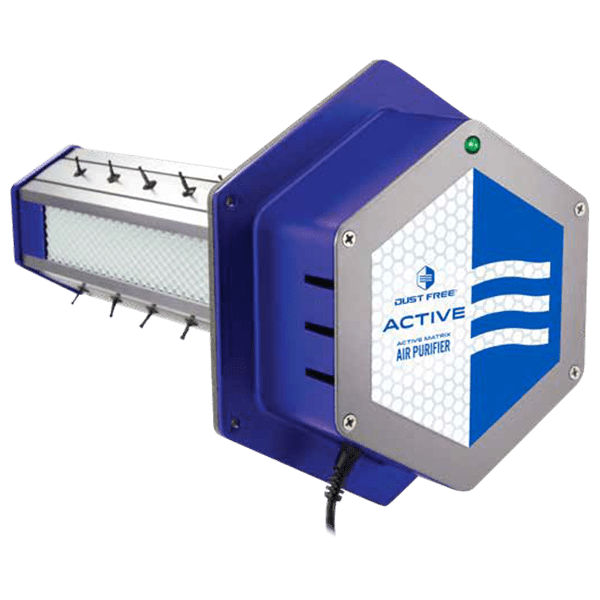 Dust Free® Active Air Purifier
The Dust Free® Active Air purifier's unique technologies target air quality problems at the source using environmentally-friendly oxidizers and ionization system to safely clean the air in your home.
Overview
THE DUST FREE® ACTIVE AIR PURIFIER SEEKS OUT AND REDUCES POLLUTANTS IN THE HOME.
The Dust Free® Active Air Purifier's unique combination of technologies target air quality problems at the source, such as dust, dander, volatile organic compounds, allergens, and odors. Installed into the supply plenum of your HVAC system, the Dust Free® Active in-duct air purifier's environmentally-friendly oxidizers and ionization system safely clean the air in your home.
Features
Unique technologies, utilizing UV light and ionization, provide a comprehensive IAQ solution.
Reduces particulate matter such as dust and dander by improving the performance of your existing filtration system.The Dust Free® Active's high-output ion brushes charge particles and assist your air filter in capturing particulates.
Innovative carbon fiber brushes increase ion production.
Reduces odors and VOC's using the proprietary photocatalyst.
Expanded range ballast for increased electrical reliability.
Auxiliary power port to power an additional 24V Germicidal UV-C light allowing to easily add an additional UV light to any HVAC system.
Available in 6" and 12" models.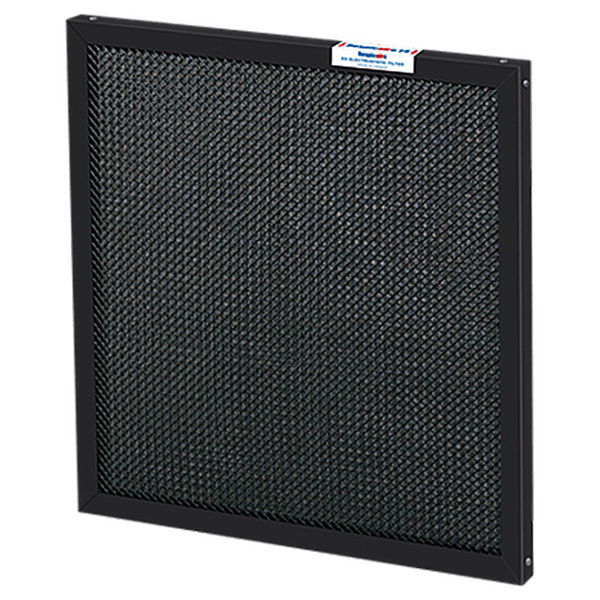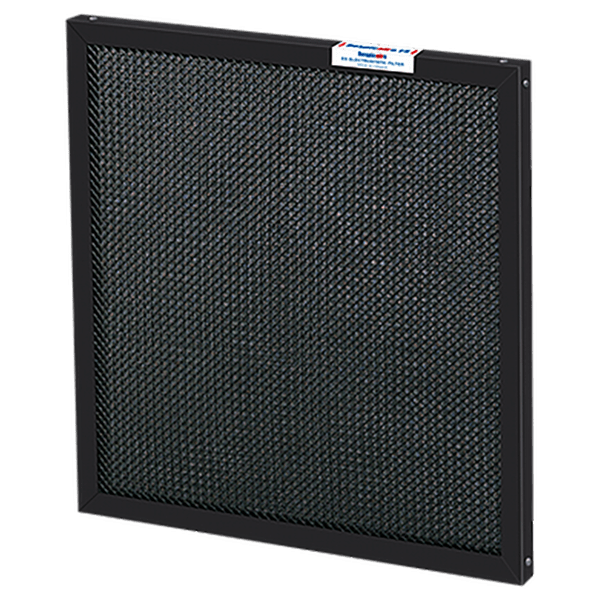 Respicaire ElectroStatic ES™
Washable Electrostatic Air Filter
The Respicaire ElectroStatic ES™ air filter is a permanent, self-charging air filter for your home heating and cooling system. With the Respicaire ES™ filter you will not need to replace your throw-away furnace filters on monthly bases again.
The Respicaire ES™ has a unique electro-static material, which creates a static charge as air passes through. This causes the material to attract and hold airborne contaminants. Our unique multi-stage design provides superior filtering efficiencies versus ordinary throw-away filters and our inner collection chamber ensures long service life.
The Respicaire ElectroStatic ES™ air filter uses no foam materials that are vulnerable to clogging or cause air flow restriction. The Respicaire ES has a high dust holding capacity and low static pressure to help maintain your heating and cooling system's operating efficiency.
For enhanced air quality in your home add one of our uv air purifiers.
Features
Washable permanent Air Filter
Helps clean the air as it passes through
Eliminates a need to purchase throw-away filters
Foam Free material allows easy maintenance
Benefits
Multiple ElectroStatic Layers help achieve up to 85% Particulate Arestance
Foam Free design helps prevent clogging and allows gradual collection over the layers
Collection Chamber ensures that the air cleaner breathes well under load
Versatile Design fits any 1" slot, filter rack or return grill
Self-Charging filter works with airflow
Low Static helps maintains system energy efficiency
Simple Maintenance by Simply backwashing the filter on monthly or bi-monthly as required
Rugged Construction will serve you for many years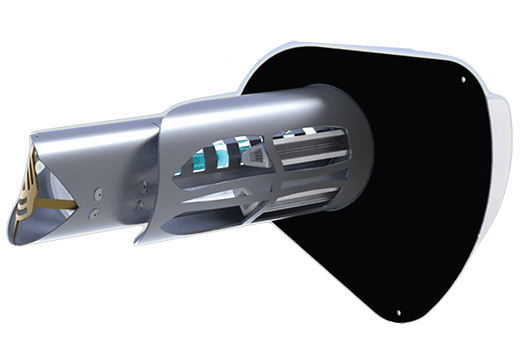 REME HALO®
Features
The REME Halo® has been designed with ionized hydroperoxide output which gives faster kill rates for microbials in the air as well as on surfaces. The higher output also drops more particulate from the air bringing relief to those who suffer from allergies and other respiratory issues.
Benefits
Efficacy of 99.9% against COVID-19 (SARS-CoV-2)
Dual ionizers to reduce airborne particulates (dust, dander, pollen, mold spores)
New zinc ions kill 99 percent of viruses on surfaces
Major U.S. city school reports 20% reduction in absenteeism
U.S. and International Hospital approval for the fight against infectious diseases: 99% reduction of Staph (MRSA)